Clean energy has continued to make rapid progress in the U.S. and globally. The year 2017 saw the second highest amount of renewable energy capacity get built in the U.S. Power prices from renewables continue to reach new lows and in some places are already competitive with fossil fuels. And the expected growth in the electric vehicle market is threatening to upend the oil industry's stronghold on transportation. Below, find the latest facts and figures that show just how fast clean energy is growing.
Renewable energy capacity continues to increase and record levels of money are being invested.
Clean energy is fueling job growth, contributing to some of the fastest growing jobs in the country.
In the U.S., over 3 million people work in wind, solar, efficiency and other fields, according to the

2018 US Energy and Employment Report

. That's more than the number of people employed as

registered nurses

, and just shy of those working as

school teachers

.

Energy efficiency made up more than half of the new energy jobs created in 2017, adding 67,000 jobs — growing at about twice the national rate. Overall, energy efficiency employed 2.25 million people, according to the U.S. Energy and Employment Report. Meanwhile solar power employed 350,000 workers, while wind power employed 107,000, both more than the 92,000 people employed by coal-fired power generation.

Globally, the renewable energy industry created over 500,000 jobs in 2017, with the industry's total employment surpassing 10 million people for the first time. With 3.4 million people, solar PV is the largest supporter of jobs in the renewable energy industry. (

IRENA

)
The price of renewables continues to drop drastically.
Both building and operating new renewable energy plants is in some cases already cheaper than just operating older conventional plants like coal and nuclear, according to

Lazard's Levelized Cost of Energy Analysis.

Global utility-scale solar PV installed costs have dropped 68% between 2010 and 2017, with the levelized cost of energy from these projects falling by 73% over the same period. For onshore wind, the costs declined 20% and 22%, respectively. (

IRENA

)

By 2020, electricity from renewables will be cheaper than that from most fossil fuels. (IRENA)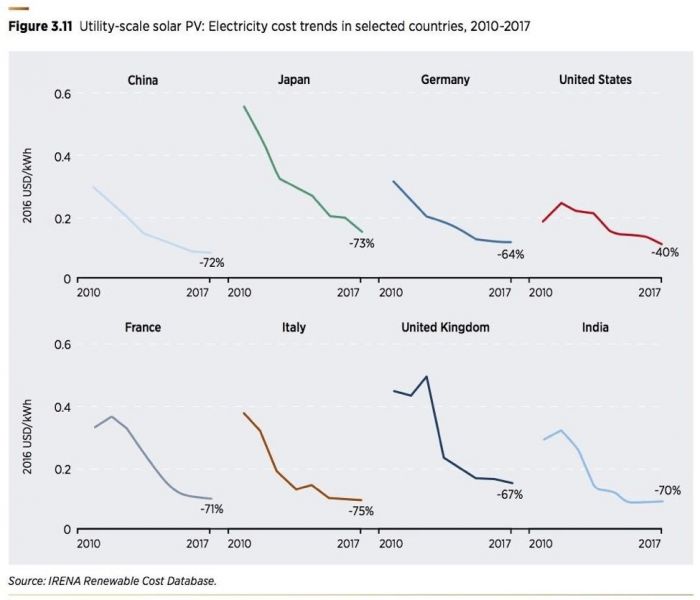 Electric vehicle sales are rapidly increasing year over year.
Battery electric and plug-in hybrid vehicle sales surpassed the one million mark worldwide for the first time in 2017, growing almost 60 percent from 2016 to reach a total of 1.2 million cars sold throughout the year. (

McKinsey

)

Electric vehicles will account for 55 percent of new car sales by 2040, according to

Bloomberg New Energy Finance

.

BNEF, BP, Exxon, OPEC and IEA have all steadily increased their projections for the global growth of electric vehicles over the past two to three years, according to

Bloomberg New Energy Finance

. With the most bullish of those projections, BNEF projects over 530 million EVs across the world by 2040.
Coal has been declining rapidly over the last decade, and continues to do so.
More than half the nation's coal plants — 268 of them —  have closed or are slated to close since 2010. (

Sierra Club

)

Almost all utility-scale power plants that retired in the last decade have been powered by fossil fuels, with coal accounting for almost half of retirements, according to the

Energy Information Administration

.

Coal mining jobs in West Virginia

dropped 90 percent

from their peak in 1940 through 2017. In that same year, U.S. coal consumption hit its lowest point in nearly 40 years according to the

Appalachian Regional Commission

.
The continued growth of clean energy and resulting drop in fossil fuel emissions and pollutants has widespread health benefits.
Reducing emissions in the energy and transport sectors could prevent almost 300,000 early deaths caused by air pollution each year in the US by 2030, according to a Duke University

study

.

Fossil fuel emissions cause nearly $5 billion in U.S. medical costs associated with premature births, according to a

study

by the New York University School of Medicine.

Continued reliance on coal will cost 52,000 American lives per year, according to

a study

by the Michigan Technological University.
The post Top Clean Energy Stats 2018 appeared first on Climate Nexus.